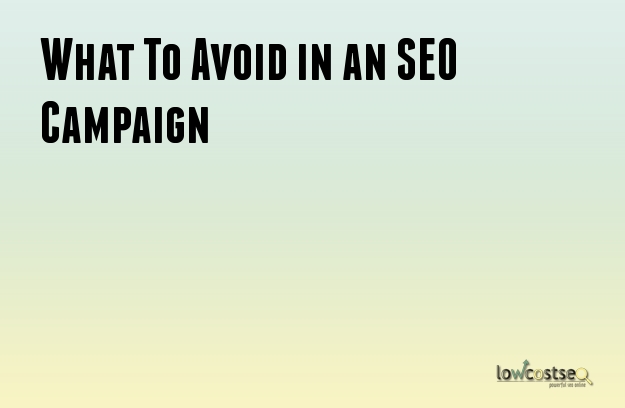 Running an effective SEO campaign for your website will only be successful if properly handled. Nowadays there's plenty of competitors in your industry. Although an SEO campaign can't give you the desired results overnight, the main thing to keep in mind is to learn a few, but very important essentials in building a website for your business.
It's no surprise that plenty of SEO agencies and digital marketing consultant are readily available to offer their services. A good tip is to contact the one agency that you think will help boost your business and see what else they can do to your site.
However, SEO campaigns are not above in having a mistake or two in the process so you will need to be very careful in going for what you want for your site. Mistakes do happen but can be prevented especially in your marketing plans and strategies. Read on below to know more on what to avoid in SEO campaign:
1. Assuming Instant Results
To think that your business, most especially if powered by an awesome website can give you a sense of gratification, but not for long. Realities are to be understood, things need to be learned when it comes to establishing your brand online.
Unfortunately, there are digital marketing consultants that can glib you into having your site rank fast in just a short time. While this claim may sound so good, but in the realm of search engine optimization, such "truth" cannot, and will never happen.
Like any other marketing strategies, careful planning and attention to details are key ingredients to having a successful SEO marketing campaign. Shortcuts that promise a successful venture to have its price. Beware of consultants that practice black hat SEO, as this is likely to lead your website to disaster and hard-earned money and marketing efforts into trouble.
2. Not Using Analytics For Conversion
Search engine optimization not only deals with huge quantities of free website traffic. It's also about conversion. Getting caught up in observing which activities are giving you the most traffic and then getting disappointed when you can't rank from those competitive keywords that should lead to traffic increase.
The thing is, website traffic isn't everything. Using analytics can give your campaign more precision in terms of conversion for more sales.
3. Not Focusing Enough on Local Search
Local search means focusing on customers in specific areas close to you. Google and other search engines take special care and awareness of varying keywords that are more recognized all over the world..
Start with specific keywords based on the region in your meta description and page titles. You may also include basic business information i.e. the location of your business and contact details on your site's footer or header so it will appear in local search results.
4. Stuffing Keywords
Keyword stuffing is exactly what it is. Repeated usage of keywords on a web page to in order to rank pages is tough as this is considered black hat SEO practice. This strategy is used to rank but the downside is that it is unreliable and can do little to your site.
5. Lack of Social Media
Nowadays a lot of people spend time on the Internet and are accustomed to turning to social media for additional information. Facebook, Instagram, Twitter are just a few social media platforms that have been helpful to many. Easy access and customers can interact. Reinforcing the use of these platforms is solid enough to gain customers. Including social media buttons on your site is a start, update your products posts to help boost your sales.
6. Using Content from Other Websites
Something has to be said for content: originality, well-written content also plays a powerful role in getting readers to turn into loyal customers. Using other site's content, or plagiarism is indeed a sin when it comes to SEO campaigns. If you have no time to write posts for your site, hiring an experienced content writer or two can just do the job.