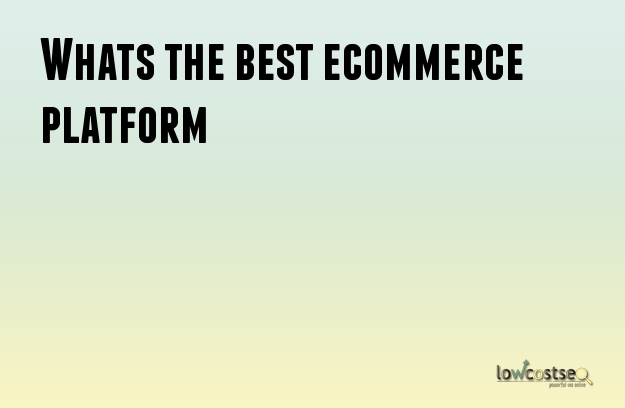 Starting an online store requires one to take many things into consideration. The most important thing is to figure out the platform to power e-commerce site.
E-commerce platforms are of two types: self hosted and third party hosted. Self Hosted means you have to get your own web hosting and third party hosting means company will provide hosting assistance.
To have a stable hosting it is best to go for a third party hosting as you get dedicated support and chances of it failing is slim to none. But the downside of choosing this type of setup is that you have to pay monthly fee and it could be high.
Third party hosted
Shopify
Shopify is one of the popular e-commerce platform with attractive admin panel. It surely has some limitations but the positives have a hold over them. The notable downside is the limited ability to make changes on the checkout page. So you have little control over it. If you want to design the checkout page like you want then Shopify probably isn't the right platform for you. Actually none of the third party hosting solutions offer customized checkout process, you will have to self host to achieve it. Coming to positives, Shopify stands at the top when we check its add-on-apps. Similar to smartphones this platform can take in many add on apps. You can download and install the app you want from the store and this extends the functionality of Shopify.
Volusion
Volusion resembles to Shopify in many things. But it is less customizable than Shopify. This platform is locked down in many features, you cannot modify much of it. For beginners the whole website is generated using a single template file. Moreover, you cannot access basic information about the products, store, cart or categories needed to make remarketing tracking scripts. Volusion offers responsive support but it is not helpful in many instances. Based on the forums many of the technical questions do not get answers from the support. The cost of Volusion is cheaper than Shopify.
BigCommerce
BigCommerce is close to volusion but it is more customizable than it. It looks similar to product feed and google trusted stores with extra functionalities. The user interface of admin panel of Big Commerce is better than Volusion. It is easy to navigate and lot cleaner than the other.
Out of all these e-commerce platforms, shopify would be the best one.
Self-Hosted
Magento
Magento is an e-commerce platform used by many big shopping websites. Even though many companies are using it there are some reasons that can pose problems after choosing it. Like most of the other e-commerce platforms it also has difficulty in customization.
Magento is a vast platform with plenty of features. The user interface of this platform is not friendly. The main issue of many stores face from Magento is slow performance. There are many apps and tweaks that can solve this problem but problem in the platform would alarm no already to many users.
WooCommerce
WooCommerce is a Wordpress plugin which depends mostly on Wordpress for its functionality. It offers the best customization. Any change that you can make on Wordpress is doable on WooCommerce. The use of filters, hooks and actions for making enhancements is efficient and easy.
There are plenty of resources available to work with WooCommerce. You can access huge number of plugins and themes to get what you want. If you have a requirement and it's a rare scenario then there are many developers on internet who can work for you.
WooCommerce is the better than Magento for self hosted websites.