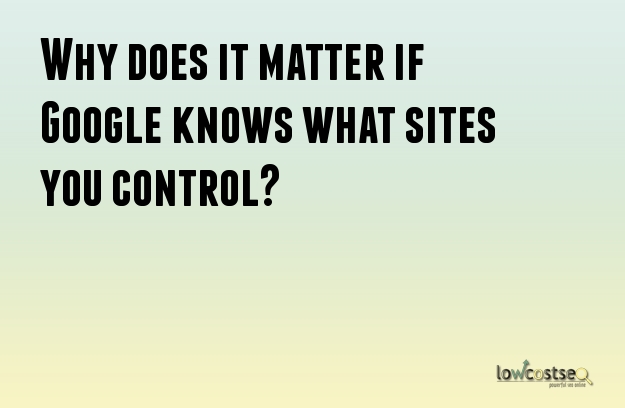 It could be argued that in recent years Google has invested a lot of time and money in tracking websites that are connected, in one way or the other. It is not uncommon, when you have been using the internet, to hear of large blog networks or other forms of interconnected websites being shut down almost overnight. It is time that, as administrators, we started to ask questions such as; "Is it possible that Google might be tracking our internet usage?" and even "Could that have a negative effect on our websites?"
How can Google discover the links?
Recently it has become commonplace for a webmaster to be penalized on a particular website, they will then restart the website, with a new domain and no back-links to the former site. Despite these measures, they may still see the penalty being brought over to the new domain. Is it possible that Google is able to form a link between the old and new domains, not only based on ownership but also on this website content or design being similar?
In trying to form links between websites, Google not only has access to Who-is Information, but they can also discover websites that are hosted on the same IP address, use the same Analytics Code or even the same Adsense Code. Other similarities or signals that may be used by Google in creating a link between websites are:
• Contact Page
• About Us Page
• Similar Themes used across The Websites
• CSS Customizations
• Link Patterns
• Same Images used Across Websites
What impact does this have on my sites?
Although no webmaster can claim to know all the signals included in Google's ranking algorithm, none will dispute the role that high quality links play. When Google can form a connection, whether by ownership or otherwise, between websites under your control, they will often devalue or even discredit the back-links that are made between the sites. For this reason black-hat and grey-hat webmasters have been going to great lengths to obscure the administrative relationships between their websites.
Some may think that it is acceptable to have these websites and accept that linking between them will not be as beneficial as it would be if their relationship wasn't so obvious. Indeed in some cases, such as that of alternate languages, sub-domains and authorship are actually beneficial to boost these signals, thus encouraging the flow of authority between the elements. In general though, it is getting increasingly difficult to hide these relationships from Google, due to the sheer extent of data they have available to them, and in the eyes of many it is really not worth the effort.
The era of "more is better" is reaching its end as websites are now competing in terms of quality over quantity. It is nearly impossible to circumvent Google's ability to track down connected websites, but it is within the webmaster's control to ensure that the websites are built on a solid foundation of legitimacy.