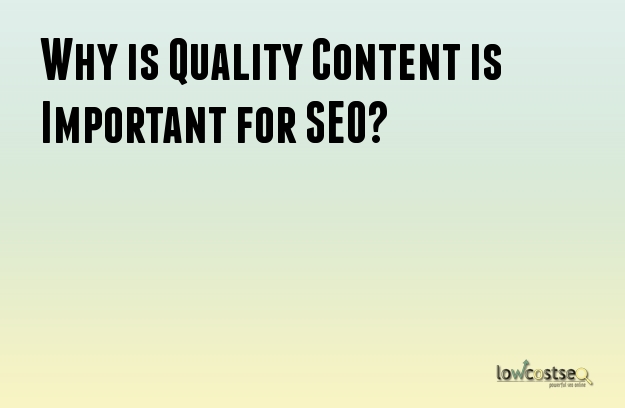 Want to become number one for your target keyword? Want Google and other search engines to "show love" to your website. If so, you need to have quality content.
There are many good SEO techniques that you can perform, but they will be largely useless if you do not have good content. Good content is what makes the web go round. Think about it this way. The search engines are dedicated to helping their users. The more helpful the results they provide, the better the search engine is considered. Therefore, search engines are constantly on the lookout for great content. The goal of every search engine's algorithm is to provide the best results possible for searchers.
This is fine in theory, but even with today's advanced algorithms, good content isn't ranked highly enough. This is why you need to give search engines a nudge in the right direction. Here at Low Cost SEO, we provide that "nudge," but in order for search engines to take our advice you need to have quality content that provides value to visitors.
So what makes content valuable? The content should be easy to read, provide links to authority sources, be long enough to provide all the required information, and should provide media to help the visitor further understand the content.
When search engines see these things, they will rank your website highly. It's not rocket science. The search engines want to provide quality results, so if your article is superior to the other articles on the same topic, they will rank your article higher. As mentioned, this process doesn't work perfectly (though search engines are continually improving their algorithms), but it's still a vital part of ranking well.
Before you can start building links or doing in-depth keyword research it's vital that you provide quality content. Provide content that helps visitors and provides value. When you do that, you've accomplished half the battle when it comes to SEO.
Once have good content, you have the base in which all your SEO efforts can branch off from. Without this base, even the best SEO experts cannot rank your website higher. So we highly recommend that you optimize your content before you hire us at Low Cost SEO. When you have good content, you have much better chances at getting great results from our SEO company.
That being said, content isn't everything. You need SEO to rank highly in the search engines. This is why we recommend hiring our SEO experts in order to ensure that your website ranks highly in the search engines.
We have talked endlessly that CONTENT means king and the importance of having unique content is very crucial. The content that you put on your website has to be creative and not just copied from another website or source. Content that is fresh and creatively written is that gets more importance in the eyes of the search engines then content that is simply spun. A few years ago when content was a bit technically unique, it was easy to rank but that cannot be said now after the numerous updates made by Google.
Google's Panda algorithm was designed to check on how well the content actually serves the purpose for it. Its pretty clear that if your content does not seem to meet its purpose then its baseless for the user. It will have no actual purpose for the readers and with time this sort of content will be taken down by a future Google algorithm update.
Now you must be asking how to create such content and what exactly does unique mean? As we mentioned, the word "PURPOSE" so in all sense the content has to have a base and purpose to it. In the end its the content that will bring the audience to your site and act as a unique selling proposition. So make sure you add value in the content that the reader can see and appreciate. Research on what will be valuable to your target audience and will it create a good user experience are the questions you need to ask yourself when writing content?
See when you're writing content, check if its unique and whether or not its engaging to your audience or not? are you answering any questions based on the topic? are you providing information that will help solve or reduce a problem for your audience? All in all, keep all this in mind when writing and make sure you keep your audience in mind when writing the content.
Content is the reason why we achieve the ranking on search engines yet many people are mistaken that by just optimizing the meta tags its sufficient to get the ranking. Well think again as Content is King and plays a bigger role in getting your site's keywords ranked. The content that you write has to be clear, precise, purposeful and fully engaging with your audience. When writing the content do always keep in mind why and what are you writing for, who are readers are and is the content going to be beneficial to them?
The search engines like content that is fresh and authentic rather then just content that is placed simply out of context. We just suggest you to practice good marketing strategies at all times. The content has to be interacting with you target market as they are the ones who will be the people buying or making the decision not the search engines.The base of all sites should be quality and informative content. Content has to be well structured in line to your website with keywords related to your SEO process used too.
Another interesting fact is that many internet surfers simply gaze through the pages and barely read everything, so in this case you must present your sentences and words in a better and more meaningful way so that your visitors do not miss the point your making. Try to captivate the audience to read more on your site. Quality of the content is another factor that determines how long a visitor stays on your website for so do your best and make a lasting impression in your SEO copywriting work.
If you require any content writing work or SEO copywriting then Lowcostseo has experienced content writers who can assist you in this.