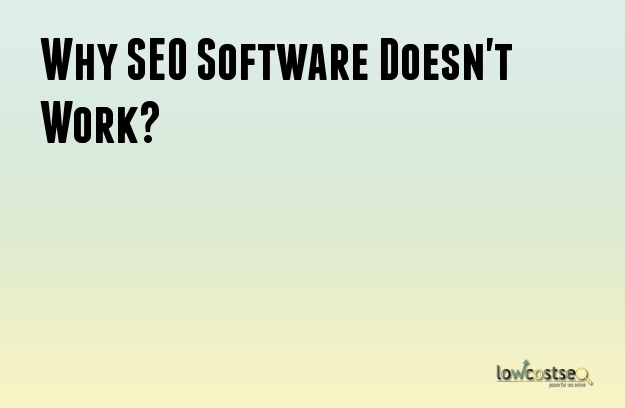 Search Engine Optimization has become an important part of internet marketing. It is no longer meant for use by big corporations, companies and websites. Instead, almost every business website needs to be optimized in the perfect manner to increase the visibility it receives online. It can help the customers become aware of the brand or the company.
SEO Is a Necessity
You should know that there is a huge number of websites many of which will be in the same line of business as you. If you do not optimize your own website you risk becoming anonymous and getting lost in that crowd. You need to be competitive and Search Engine Optimization procedures can help bring the spotlight to your website. Many companies have already begun to realize that good SEO is required to survive in the field of internet marketing.
Using SEO Software
Many companies who have decided to use SEO conduct a bit if research into the matter and find out that SEO software are easily available. They remain under the misapprehension that the SEO software will be enough for their needs and make the requisite purchases of the software. Unfortunately, the companies fail to understand that the SEO software on their own is nearly useless.
If a person does not understand the concepts of SEO, then the software cannot be used in the proper manner. The SEO software is nothing more than a simple tool which can help you perform SEO tasks faster. They cannot function on their own. You need to know how the software and SEO works in order to make the best use of the software.
Who Can Use SEO Software?
SEO software is useful certainly but in the right hands. If your company has dedicated staff for SEO, then you can certainly purchase the software to make them complete their work faster. This is certainly beneficial. However, you simply cannot give the SEO software to the other employees and expect them to ensure that your website ranks first on Google.
You will be better off hiring an agency or a SEO professional if you do not have employees trained in SEO procedures. This decision is based on financial reasons. Some of the better SEO software cost nearly as much as the charges levied by a good SEO firm for their entire services package. There is just too much effort and time that your company will have to spend and probably waste on buying SEO software if nobody can use it probably. At just a fraction of the cost more you can hire an agency to gain access to their skills and services.
Understanding SEO Is Not Enough
You or some of your employees may already be familiar with search engine optimization and understand some of its various procedures and concepts. However, that does not necessarily mean that you or your staff can use the software in the correct manner. You will need time to understand how the software works and how to get the best possible results with it. You need to take this fact into consideration if you want to purchase SEO software.