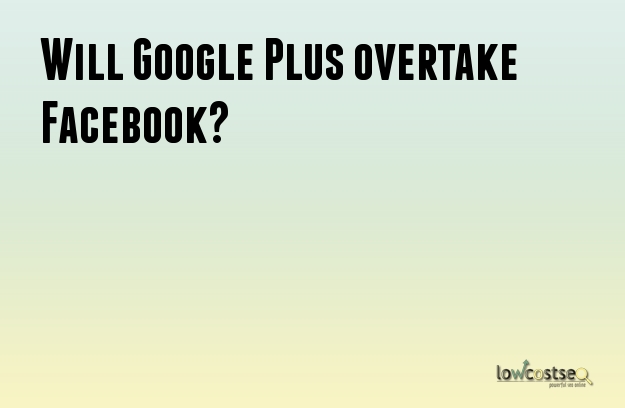 Is Google Plus overtaking Facebook?
It's been nearly three years ever since Google Plus was launched and it surely has grown year by year to shadow Facebook's fame. Well, the question is, has Google Plus overtaken Facebook in terms of popularity on the web? Not quite yet but it will in the next 2-3 years according to the owners of the search analytics company called Searchmetrics. They state that if Google Plus is able to sustain the growth for the next two to three years then it will surely reach the fame and level set by Facebook. Searchmetrics compared the growth rates of the two companies in question on the basis of shares. They saw that Facebook showed an increase of nearly 10% within the first 6 months and in the same period Google Plus' had their share price jump as much as 20% proving a tilt in the popularity and investment market. Some skeptics will say that share market is not a right way in judging the popularity or growth, however Searchmetrics conducted further study on the two social media giants and presented some valuable interesting results.
I was left bemused too by the results because I felt Facebook had a greater number of active users engaged on a day to day basis. I have not seen a huge jump of my own fellow colleagues joining Google Plus. Yes, people have created accounts but most of the people in my network still prefer Facebook as method of engaging with their family and friends. Yes, Facebook might have a drop in the number of users however people feel more engaged on that platform then on Google Plus. On the other side, Gmail users have been automatically signing up for Google Plus. Well this doesn't imply that Google Plus is growing faster than Facebook. Even if the numbers of users in Google Plus are growing faster, the question is, how engaged are they actively? Higher number of users signing up does not mean they all are actively engaged on the social platform. Let's talk numbers now, Facebook has over 1.1billion active users whereas Google Plus has just 190million. They claim the number to be over 390million if we put together YouTube, Gmail and Google Play. So, we understand Google Plus is growing quite quickly and may soon catch Facebook in the next three years or so if the positive trend continues, now let's have a look at some reason to join Google Plus:
The features: Google Plus has a variety of photo uploading apps such as Flickr and Picasa. There has been great innovation at Google Plus to expand its features and usability too. It is linked to various other Google apps such as Hangouts, Photo editing and so on. The document sharing tool Google Drive is a personal favourite of mine. There are so many other features that Facebook lacks. I think Google Plus can be easily moulded into a business perspective and also entertainment perspective too. With so many features and apps at your disposal, surely one must sign up on Google Plus to take advantage of the latest innovative technologies in the social media industry.
So will Google Plus eventually overtake Facebook?
Facebook very recently took over WhatsApp, which is their latest addition to their apps. Also Facebook is evolving and trying different ways to imitate their competitor in Twitter. Their aim is to be the authority for everyone to go to when searching for the latest current events around the globe. So we can see Facebook is more concerned about Twitter then Google Plus as it sees their position in the social media industry to be threatened by them. So, it is rather baseless to argue if it will overtake or not as in the end users will be more comfortable with the platform that keeps them engaged.