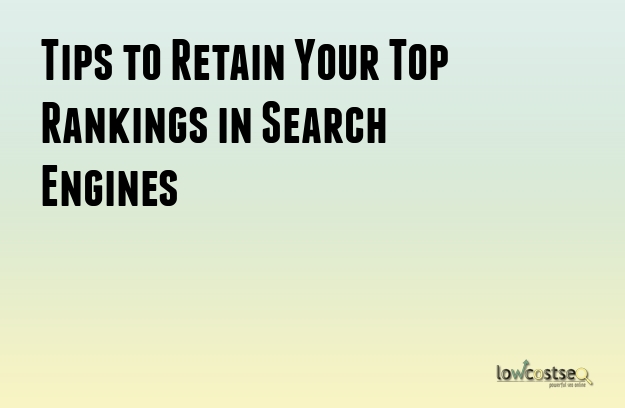 Building something is hard. Retaining success is harder. SEO is no exception to that. Many websites do intense SEO and marketing but fail to retain their success for long after seeing the results.
Google considers authoritative websites and ranks them first. When your website has good authority, you are under the direct lens of the search engine. So, what happens after you earn the spotlight?
Contrary to the general belief that keywords alone help you stay on top, there are other essentials of SEO that you have to keep a tab on that constantly will help you be in the spotlight. The key, however, is to evolve and adapt to the changing algorithms constantly. Here are a few things you can consider to ensure you stay on top even after seeing the light of success in the SEO game.
Tips to Retain Your Top Rankings in Search Engines
1. Keep Your Site Updated
While this can sound very cliched and usual, not everyone follows this. Many fail to understand that and add regular content to your website; Google also notices the quality of the content you update.
This means there should be content freshness along with quality and quantity. Text-only articles are outdated, and you have to use the power of multimedia to enhance the way you display your content.
Text-only content can hinder your ranking even if you have used enough keywords. Invest time in delivering creative content. This will encourage the readers and will entice other websites to link your site to theirs. This way, you can also increase the DA for your website.
2. Mind the Speed
Customers have a very short attention span and patience. If your website is slower than usual, then the chances of losing potential readers and customers are more. Google has long before marked page speed as one of the most important ranking factors for a website.
It urges Webmasters to get their page loading time to less than one second on mobile devices that load faster. Over two million blogs get posted each day, and if your page is going to load slowly, then your readers might just skip your page and head to another domain to read.
Page speed ensures your website is ranking on the top. One good thing is that you don't need to have experts to get this right. Using some simple steps, you can pick your page speed. WebPageTest is a great tool to check your page speed.
Switch to a more reliable hosting that is also faster.
Enable compression on your website for all images.
Opting on CDN is a good way to increase your download speed.
3. Link Building Is the Key
The first ranking page on Google has an average of 3.8x more backlinks than positions 2-10.
The importance of link building cannot be stressed enough. If you are looking for organic reach, be assured of getting it through extensive link building. This includes both internal and external link building.
One mistake that many marketers make is focusing on the quantity of link building rather than the quality. Remember, if you are backlinking from a website with a good DA score, it will make no difference to your website regarding its position or visibility. Also, take it slow; intensive link building at one time can be perceived as a red flag and can result in your website getting banned.
Google is an intelligent bot, and it keeps an eye on what kind of links you are using. For example, it is not a good sign if you are trying to add more links in a single article.
Also, if you are adding too many links from websites with no relevant information, that too can hamper your growth in terms of ranking.
4. Building Your Social Media Presence, One App a Time
Social media presence for brands is just as important as having a website to have an identity. Social media is a platform where you can find numerous potential customers, and not harnessing its power will land you with a poor business presence online.
Major social media platforms show a high PageRank on Google. When people come across your social media presence, the chances are that they might want to come and explore your website, and this means more viewers and a better ranking.
Hence, directly or indirectly, social presence has a lot to push your position on a SERP.
5. Placement of Keywords
Some websites use extensive keywords. While there is no problem in using multiple keywords and keyword phrases, one major problem comes with the placement of the keywords. For example, you cannot use five keywords in just three lines.
It would otherwise be called as dumping of keywords. Along with understanding your content based on your top-ranking keywords, Google also notices its quality. One best way to pick keywords is to consider what your customers would lookup for if they know about a brand like yours. You can also use keyword tools to help you find the apt keywords.
But remember, the trick is in placing it meaningfully and in the right way rather than cluttering an entire website or blog with all the keywords.
6. Aim to Reduce Your Bounce Rate
One major problem that many websites face today is an increase in bounce rate. There are many factors to this. This could be because of broken links or page speed, or poor quality content.
So what can you do to avoid an increased bounce rate?
First, it is always advisable to keep an SEO checklist next to you while doing your website audit. When the bounce rate is higher, it means people are not happy with your website. What you can do as a quick fix is align your content with the search intent.
When you give your readers what they are looking for, then they wouldn't bounce. A quick pop-up on a freebie or a free guide, for example, is a great way to ensure your customers stick around for a while to check out your page rather than quitting it at the beginning itself.
Another trick can be playing around with words or copies in your blog's Above the fold section.
7. Ensure Your Website Is Optimized for Other Devices
Technical SEO problems are rare, and not all websites face them. But to ensure that you will not land into one, you have three basic things to do.
Firstly, check for your website's mobile responsiveness. It doesn't hurt to check twice and ensure that everything is right. Technical SEO hardly lashes back, but when it does, it does with a blow.
Thankfully, checking for your site's responsive design is not so hard. All you have to do is type your website's URL in Google's mobile-friendly testing tool.
Once you enter your website's URL, it will show the result in all green text. But if something in red pops up, then there's something that you have to tend to.
8. Indexing
Indexing is a way of organizing information in the search engines before showing super-fast results for a better user experience. The process is like a chain. Google first crawls to your website, following links and discovering more pages.
Next, it sorts information based on the pages that were discovered in the previous step. Finally, it ranks the pages based on various ranking factors. Indexing helps the Google bots to discover your page easily and show it in its SERP.
To find out how Google indexes your page, you can use Google's Search Console. In that, go to Index and then Coverage in the sidebar. This is where Google will let you know if it has trouble indexing your site.
9. Align Your Website to the Search Intent
Google has often been treated as a human for many types, their questions the same way it pops up in their mind. It could be a long question or just a phrase, or even just a word at times.
The beauty here is that all of these are accepted and inferred by Google to show you the best results for your search. But this does not happen naturally. If you want your site to pop up every time someone asks for a quick query, then you should set your website content according to the search intent.
To be precise and make things easier, search intent is of four types.
Informational - How many fins does a fish have? | Best tips to grow your site visibility | How can I retain my top rankings?
Navigational - Facebook | Contact ABC technologies | LinkedIn Login
Commercial - Best drone cameras in 2021 | Buy toe rings | House of Dragons poster
Transactional - Buy vegetables online | India to UK Flights | Health insurance quotes
So, to conclude, if you want to rank organically, give answers to what people are searching for. Change your content tone to the expectations of your customers. The foundation of any good SEO strategy is understanding WHAT people WANT to see and giving them answers.
10. Keep Tracking and Monitoring
It's not yet a celebration when you see results or a rise in your site's organic traffic. To be honest, the work of SEO never ends. How do you know if the rankings are doing anything for your site?
At this point, you should probably invest a lot of time in researching, understanding, and monitoring your site's performance to ensure that the rankings stay. Track your results like a pro using Google's 'Organic Traffic.' Concentrating on improving your organic CTR is one of the ways to ensure there's enough traffic to stay on top.
So, in conclusion, the work of an SEO expert actually begins after seeing the content or the website rank. By tracking and understanding how your rankings are performing, you can save yourself from any pitfalls.
Dead are those pages that are not maintained, and this can severely tamper with your website's ranking or position in a SERP and its reputation over time.
Readers always need something new, and there's no end to their expectations. If you learn the tips and tricks to create insanely creative content for your users, then there's no turning back.
Tips to Retain Rankings FAQs
Q1. What is backlinking, and why should I do it?
Backlinking is considered an important activity in maintaining your site's SEO. It is telling search engine's to vouch for your content. When someone is backlinking your article, it means they found it valuable enough to mention it on their website. Backlinking can be done in many ways.
Backlinking is important as it helps Google discover your page and also helps in crawling. By adding backlinks, you are directly boosting your organic search. It also helps in fast indexing and referral traffic.
Q2. What is search intent?
Search intent is aligning your content to what people are searching on the SERPs. It is a way of understanding what's the intent behind a particular query. It helps identify and categorize to show customers what they exactly want.
Search intent can be categorized into four - informational, navigational, commercial, and transactional. These will help you understand what the user is looking for when they are typing a query. By matching your content to what the user is expecting, you are building your site's authority. This will drive traffic and eventually potential leads.
Q3. Why is my website not ranking on Google?
There are many factors why your site might not be ranking on Google. Some of them can be page speed, website's responsive design, quality of the content, and much more. To ensure your website ranks and stays on top even after ranking, you should do an extensive SEO.
An SEO checklist always helps you keep a tab on the most important aspects of SEO that are to be addressed regularly.